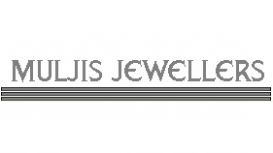 At Muljis Jewellers our main speciality is diamonds. We create bespoke hand-crafted jewellery to suit your needs and have the very finest diamonds to please you or a loved one. Whether it be platinum, gold, fine diamonds, engagement rings, or any jewellery desire come to Muljis the Diamond specialists. We also offer a jewellery repair service, valuation service and gold sector.
Muljis Jewellers is a family jeweller that has upheld simple values of trust and integrity for over four generations. Muljis manufactures it's own jewellery therefore we are able to provide better value to our clients by ensuring perfection in price, quality and design. We pride ourselves on giving a great service; every job is important to us whether it is repairing something of sentimental value or commissioning your diamond engagement ring. Even though we are a company established for decades, we are a contemporary company with a passion for design and eye for detail.
---
Reviews and Ratings
Beware of Muljis Jewellers - Payment Defaulter - 17000 US Dollar payment due for over 2 years.

We created a full-fledged customised e-commerce website for Muljis Jewellers (Dilip Pattni) over 2 years ago. We corresponded via hundreds of email and phone conversations between the owner, Mr. Dilip Pattni, and our team at DTS (based out of Mumbai, India) over a period of 1 year.

In one of the last emails we received from them, Mr. Pattni explicitly stated that a full payment would be made by February 2015 but they have still not made any part of this payment.

They owe us over USD 17000 but they refuse to pay and refuse to take our phone calls.

Beware of working with Mr. Dilip Pattni and associates at Muljis Jewellers.