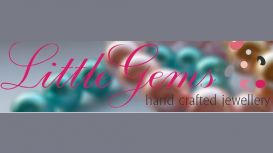 I started making jewellery after being fed up with trying to find colours, styles and materials that I liked and that were different from "the norm". I did a bit of research into where to buy materials and supplies and started making little bits here and there for myself. I then started making pieces for friends and family, which then expanded into work colleagues and school fairs, and finally LittleGems Jewellery was born! I also opened an Ebay shop, mainly just to get a presence on the web without going to the extent of getting my own website, and when I got my first sale to a "stranger" (well, someone that I didn't know personally!) it was really encouraging.
I also supply a couple of local gift shops which has also really helped build my confidence into taking this step of having a proper website! I source my materials, mainly from the internet - as far afield as Australia and the US, but mainly from some great suppliers in the UK.
---
Reviews and Ratings
We do not have any reviews about LittleGems Jewellery available right now.