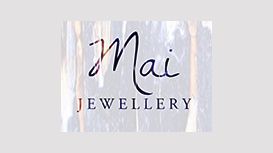 Unique Fine and Fashion Jewellery created with a focus on fashion, quality and craftsmanship. Mai Jewellery is affordable luxury for those who want to accent their individuality with eye-catching pieces.
Mai Jewellery was established on 1st May 2013- Very fitting, don't you think!? And was created by UCA Jewellery Design Graduate Kimmi Piggott. As one of the oldest art forms in itself, jewellery making has become an expressive language that allows those wearing and creating it to challenge traditional boundaries of material, scale, process and the idea of preciousness all together. I hope to create one off/bespoke pieces and collections that wearers can collect, cherish and display as a walking pieces of art. Kimmi specialises in the use of silver, resin, precious stones, gold leaf, wood, driftwood & sometimes dinosaur bone! She found that by sourcing inspiration from her travels as well as her natural surroundings at home she opened up a whole new world of ideas. Travel feeds the mind!
Reviews and Ratings
We do not have any reviews about Mai Jewellery available right now.
---